Features:
Supports up to 4 players

Colorful graphics

Sounds

Background music

Complete HTML Help:

| | |
| --- | --- |
| | Tips & tricks |
| | Company profiles |
| | Glossary |
| | |
| --- | --- |
| | Helpful hints |
| | Game statistics |
| | Game trend graph |
| | Optional time limits |
| | Saving & loading |
| | Automatic saving |
| | Basic business concepts |
| | Short game time |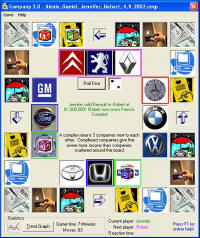 Company is an award-winning board game that combines entertainment and business. It features the world's greatest car manufacturers (like BMW, Ford, Nissan, Peugeot) anfd computer companies (like Microsoft, Intel, IBM, EA Sports). In Company, you'll have the fun of the best board games while learning business as you buy, sell, insure, invest, lend and loan. So, get together with your family and friends and prepare for lots of excitement!
Company supports up to 4 players. So play Company with company! It has a game board window with a separate window for each player. You roll a dice and move your piece around the board, landing on different cells. When you land on a "Company Market cell", you buy a company, and receive income whenever other players land on it. Then you insure it when you get to an "Insurance cell". You can also sell your companies to other players. There's a bank you can deposit money into, or withdraw money from. You receive interest on your bank balance every time you land on a "Bank cell". You can even lend to or borrow from other players.
Unlike most board games, a Company game can be completed in a few minutes. You can also save the game and continue later. Company features game sounds, background music, game statistics, and a complete Help system.